THE HOLE
2015
digital c-print mounted on aludibond
80 x 60 cm / 60 x 80 cm
For THE HOLE Hicham Benohoud persuaded the inhabitants of houses in the medina of Marrakech to allow him to knock holes in their walls and floors. In his photographs, people and their body parts emerge from temporary holes.
In the digital era, where everything has become visually possible, where the borders between reality and the imaginary are increasingly porous, and where truth and falsehood have become entangled, Benohoud resists the temptation to retouch and re-arrange his photos. He wants his pictures to display events as they really happened. Benohoud's photographs are both staged and documentary. They explain how the surreal can be embedded in everyday life and how little enactments of the absurd can tear holes in the fabric of 'normalcy' that usually keeps people's creative ambitions under wrap. As it is typical of Benohoud's work, any social criticism or sense of subversion is expressed with irony and feigned lightness.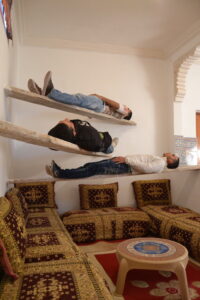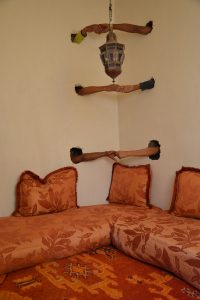 The idea is to visit a few inhabitants of the medina in Marrakech, my hometown. I ask them to make holes in their homes, either in the floor, wall or ceiling. After this in-situ intervention, I ask them to pose for me in these holes before photographing them. Afterwards, I put everything back as it was before leaving as if nothing had happened. These pictures show the social abyss from which many of my fellow citizens suffer, not in a miserabilistic way, but rather in a plastic or artistic way. Metaphorically, they find themselves immobilized in a hole from which they can't get out, can't bounce back. They are absorbed by the hole. They have no prospects for the future. They are swallowed up forever. 
(Hicham Benohoud in: «People are resigned to social fatalism» – Hicham Benohoud's work depicts Morocco, LAMPOON, August 28, 2023)